Professional Psychic Giselle lives in Hamilton Ontario Canada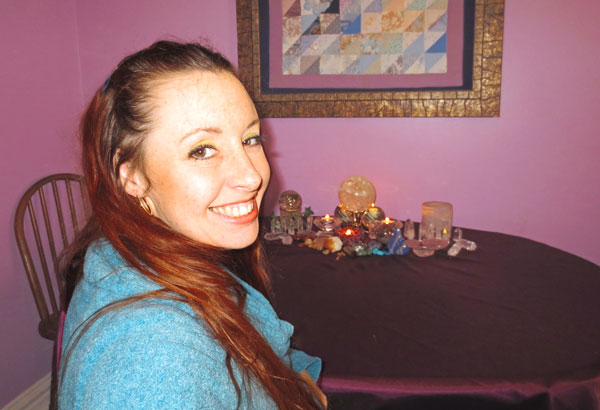 I want you to start seeing the big picture and start making better decisions for yourself.

My psychic skills are Clairvoyance, Clairaudience, Clairsentience and Claircognizance.

I am also a certified IET-Integrated Energy Therapy Master and certified Reiki Master.

Are you looking for psychic guidance and ready to talk to Professional Psychic Advisor?
Are you interested in an Energy Healing for relaxation and peace of mind?

Call, Text or Email me to schedule a private and professional psychic reading/healing 905 921 2571

"I just wanted to thank you again for an amazing reading Giselle ! You honestly had my tarot card reading right on ! Thank you for a life changing and eye opening experience :)!! Thanks." Jessica B
"Giselle is an absolutetly amazing and talented woman! I had a reading with her and she hit it right on the spot!" Trish M
"Giselle is a highly intuitive and compassionate medium and tarot reader. The insight and validation I received from her reading was both comforting and helpful in determining my next steps and direction. Thank you, Giselle!" K L
"Giselle is not only extremely gifted, but also patient and thorough in her approach. In addition to answering your questions she does a great job of helping you to realize where things are at, in various aspects of your life" Denise
"I have had a reading from Giselle and was strongly moved by the insight she has given me. The things she has told me were all very much true as to what I am personally going through, a lot of things that there would be no way of her knowing that made me believe very much in the gift she shares.
I would strongly recommend her to anyone for readings. There are few who have this kind of understanding and I am comforted with what I have been told by her." Anastasia W
I was born on the summer solstice. Growing up as a psychic-intuitive-sensitive child, I would have sudden bursts of psychic insight. My mother noticed I had a gift for reading her mind and knowing exactly what she was thinking. In kindergarten she tested me by hiding an object behind her back and asking me to guess what it was. An image popped into my mind, I instinctively saw and knew that it was a yellow crayon. I started exploring my intuitive gifts, quietly at first, with animals and nature spirits. As a teenager I began studying Tarot Cards because they fascinated me. However it wasn't until I was in my twenties that I really started to research, develop and attune my psychic skills. In my thirties I became immersed in clairvoyance, mediumship, channelling, esp, astral travel and the akashic records. I eat well, exercise and meditate daily to keep my body, mind and soul at its best to communicate with spiritual and psychic connections. As well as reading Tarot Cards, I can read people's energy. I like to use the 4 Clairs' in all my psychic readings.
What are the 4 "Clairs"
Clairvoyance is the ability to visualize or see Spirit
Clairaudience is the ability to hear and speak to Spirit 
Clairsentience is the ability to perceive Spirit's feelings and emotions
Claircognizance is the ability to receive psychic knowledge from the source

I love my job because it is extremely rewarding for me when I can Help, Heal and Empower other Women.
I decided to learn Integrated Energy Therapy® (IET) and Reiki after experiencing the benefits of natural Energy healing for myself. I love Working with Energy Therapy.

Look around my website for lots of DIY - "Do it yourself" Psychic information on the Tarot Cards, the Elder Futhark Runes, the power of gemstones and crystals and their metaphysical properties, candle magic, pendulums, chakras, horoscopes, meditation, sage smudging and the chinese zodiac.


Empowering Women with Psychic Guidance and Energetic healing of the body, mind and soul.
©Eye on Tarot 2017 All rights reserved. Text 905 921 2571 or Email psychicgiselle@gmail.com
All Psychic readings are Confidential and in Person.
Sorry but I do not do distance (Telephone or Skype) readings.
Professional Psychic Medium Giselle offers Women Accurate and Confidential Psychic Readings, Reiki Treatments and IET - Integrated Energy Therapy Treatments in Hamilton Ontario, Canada.