Symbolic meaning of the pentagram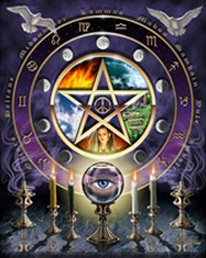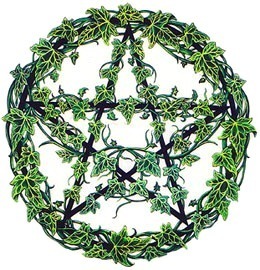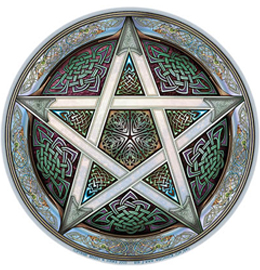 The Pentagram is a symbol of a star encased in a circle. Always with 5 points (one pointing upward) each has its own meaning.
The upward point of the star represents the spirit. The other four points all represent an element; earth, air, fire and water.
All these things contribute to life and are a part of each of us. The circle around the pentagram contains and protects the star.
The circle symbolizes eternity and infinity as well as the cycles of life and our connection to earth's natural elements.
The circle touching all 5 points indicates that the spirit, earth, air, water and fire are all connected.
To wear a pentagram necklace or other form of jewelry, is to say you feel the connection with the elements and respect the earth.

The Pentagram As A Christian Symbol
Up until medieval times, the five points of the pentagram represented the five wounds of Christ on the Cross. It was a symbol of Christ the Savior. This is in stark contrast to today where the pentagram is criticized by modern Fundamentalist Christians, as being a symbol of evil.
The church eventually chose the cross as a more significant symbol for Christianity and the use of the pentagram as a Christian symbol gradually ceased.

The number 5
The number 5 has always been regarded as mystical and magical, yet essentially 'human'. We have five fingers/toes on each limb extremity. We have five senses - sight, hearing, smell, touch and taste. We perceive five stages or initiations in our lives - eg. birth, adolescence, parenthood, elder and death.
Five were the virtues of the medieval knight - generosity, courtesy, chastity, chivalry and piety as symbolized in the pentagram device of Sir Gawain.
The Wiccan Kiss is Fivefold - feet, knees, womb, breasts, lips - Blessed be.
The number 5 is prime. The simplest star - the pentagram - requires five lines to draw and is a continuous loop.




Empowering Women with Psychic Guidance and Energetic healing of the body, mind and soul.
©Eye on Tarot 2017 All rights reserved. Text 905 921 2571 or Email psychicgiselle@gmail.com
All Psychic readings are Confidential and in Person.
Sorry but I do not do distance (Telephone or Skype) readings.
Professional Psychic Medium Giselle offers Women Accurate and Confidential Psychic Readings, Reiki Treatments and IET - Integrated Energy Therapy Treatments in Hamilton Ontario, Canada.